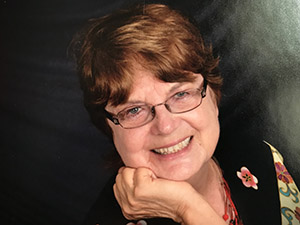 Born and educated on the East Coast, Leslie served as Assistant Director of Branches for the Los Angeles Public Library. She looooves to read almost anything - although she's just beginning to enjoy poetry – and she participates in five book clubs. Now retired, Leslie lives in Los Angeles with her husband, Anson, and her 98-year-old father. She truly treasures her family and friends.
1. What is your idea of a moment of perfect bliss? When I am almost overwhelmed by a sense of well-being.
2. What was one of your biggest "aha" moments? When I finally realized that it is more fun to be in partnership with others than to be alone.
3. What hopes and dreams did you have twenty years ago? That when I retired I would find and follow a passion.
4. What do you love about aging? I love the freedom to do and say as I please, the time to volunteer for causes to which I am committed, the perspective on life that comes from (many) decades of experience, and the the boldness to have new friends and adventures.
5. What talent would you like to have? To speak and read a second language
6. What are you most proud of yourself for? For being an adventurer.
7. What would you like to be remembered for? Being one who serves others.
8. What do you most treasure? My extended family and the memories we share.
9. If you could invite 3 people - living or dead - to dinner, who would you invite? Jesus, Thomas Jefferson and Ruth Bader Ginsberg
10. If you could have one great adventure, what would it be? Doing scientific research in Anatarctica
11. What's your favorite word? thrum
12. What's your favorite sound? Boy soprano singing
13. Who's your favorite musician/band? Back Street Boys
14. Among the places you have traveled to, what was your favorite? Ireland
15. What's a place you would love to travel to and have never been? Greenland
16. What is your favorite guilty pleasure? Peanut Butter
17. Why did you choose to be a Love of Aging Community Circle Host? I love my life and want to be surrounded by other elders who love theirs.