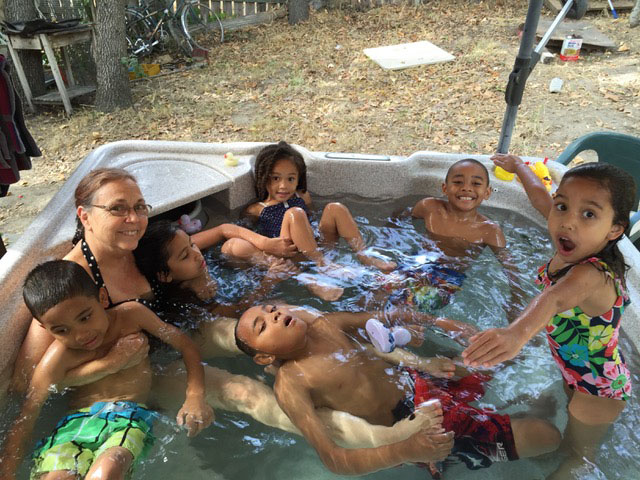 Kathy is a Northern Californian, who took up acting in her retirement after teaching elementary and preschool for 32 years. She met and fell in love with her husband of 23 years because he played the guitar and sang. She loves singing harmony and performing with him and recently learned to play the electric bass to add another dimension to their musical performances.
1. What is your idea of a moment of perfect bliss? Walking in a redwood forest
2. What was one of your biggest "aha" moments? When I realized I could play the electric bass.
3. What hopes and dreams did you have twenty years ago? That my 3rd marriage would last. It has!
4. What do you love about aging? Having Grandchildren. Can't have those when you're young. ;-)
5. What talent would you like to have? Being able to beat box or be a ventriloquist
6. What are you most proud of yourself for? My 32 years of making a difference as a teacher, especially the last 15 as a Special Ed. Preschool teacher.
7. What would you like to be remembered for? My love of people
8. What do you most treasure? My marriage
9. If you could invite 3 people - living or dead - to dinner, who would you invite? Paul McCartney, Michelle Obama & Werner Erhard
10. If you could have one great adventure, what would it be? A first class trip to Ireland
11. What's your favorite word? Love
12. What's your favorite sound? Laughter
13. Who's your favorite musician/band? The Beatles
14. Among the places you have traveled to, what was your favorite? Costa Rica
15. What's a place you would love to travel to and have never been? Ireland
16. What is your favorite guilty pleasure? Eating Haagen-Dazs coffee ice cream out of the carton
17. Why did you choose to be a Love of Aging Community Circle Host? It's an opportunity for connection and having powerful conversations with friends I don't get to see on a regular basis.