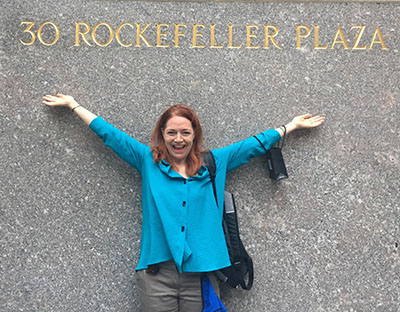 Doris Scott is known for her ability to deeply connect with people while creating a safe, nurturing environment in group settings. She has worked in the training and development industry for more than 30 years, helping to grow and expand several national organizations. She has also led transformational programs for thousands of people. Her passion for all people being self-expressed and fulfilled is matched by her love for friends and family. She lives in Southern California with her husband and has 2 grown sons and 3 grandchildren.
What is your idea of a moment of perfect bliss? Being with family as they joke around and are authentic with each other.
What was one of your biggest "aha" moments? When I discovered I was responsible for my life.
What hopes and dreams did you have twenty years ago? To give people access to freedom and full self-expression.
What talent would you like to have? To sing and play the guitar and piano and to write music.
What are you most proud of yourself for? Loving, accepting, and championing people.
What would you like to be remembered for? Being a great mom and wife and being loving.
What do you most treasure? My relationships with people – my husband, Joseph; my sons, Joey and John; my extended family; and my friends.
If you could invite 3 people - living or dead - to dinner, who would you invite? Mom and Dad (I miss you both) and Joseph (I want you to meet my mom)
If you could have one great adventure, what would it be? To go skydiving!
What's your favorite word? Love
What's your favorite sound? Laughter
Who's your favorite musician/band? The Beatles
Among the places you have traveled to, what was your favorite? New York City!
What's a place you would love to travel to and have never been? Europe
What is your favorite guilty pleasure? Going for ice cream with friends or binge watching a favorite TV Show
Why did you choose to be a Love of Aging Community Circle Host? To be with family and friends engaged a conversationwe don't usually have