Getting older getting you down? Try flipping your aging paradigm.
On this crisp fall afternoon, I'm sitting at my desk in my Pacific Heights office, a converted A-frame studio condo at the top of a three-story Victorian, bathed in sunlight from windows on three sides. The flip chart behind me has scribbled notes from my earlier session with a group of exuberant, world-tackling millennials looking to join one of my leadership programs. I'm finishing my second cup of Peets Ethiopian coffee before a call with long-time client. My 72nd birthday is coming up, I'm thinking, which means I have 20 years to go.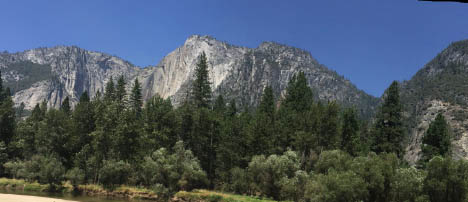 It all started mid-July four years ago. I was at a rustic conference center in Bass Lake, high in the mountains just outside Yosemite. The days were beautiful, the birds singing, the majestic pines swaying gently in the warm breeze, and the nearby creek gurgling peacefully. Yet, I was not peaceful.
I was halfway through my 67th year and getting older was starting to get to me. Life felt familiar, routine; I had lost some enthusiasm. I seemed to be slowing down, my world seemed to be getting smaller, and my golf game was sliding. In my consulting practice, I supported visionary leaders in fulfilling on their most audacious ambitions. But, where were my audacious ambitions? Some of my best clients were retiring, my business waning. My wife, Lily, noting my lack of zest, had recently asked, "Is it time for you to retire?"
Was it? I asked myself in the contemplative mountain air. I had lived an extraordinary life. I had built a successful business doing work I loved. I had recently been selected as Chairman of the Board of the Pachamama Alliance, a highly successful global nonprofit committed to bringing about a thriving, just, and sustainable planet. My health had been great—since the age of 34, I'd run 19 marathons. I had a close family, a wide circle of incredible friends and colleagues and had been married to an unbelievable woman for more than four decades. I had been president of the student government in college and got my MBA from Stanford University. My professional work as a Silicon Valley executive and leadership consultant, and my volunteer work in ending world hunger, had taken me to well over 40 countries and given me the opportunity to meet with many world leaders, including President Bush and President Gorbachev. I had been a guest on a talk show in Moscow and written about in The New York Times and The Boston Globe. In 1989, USA Today had honored me as one of their "Top 10 People Who Made a Difference."
Now there I was, sitting in a scenic mountain retreat—with more experience and more capacity as a leader than at any time in my life —yet with a gnawing feeling of impending irrelevance as I meandered ahead toward what appeared to be a dwindling future. I recalled a chart one of my teachers and mentors, Brian Regnier of Landmark, had showed me years back. It depicted growth and development as most of us seem to expect it, rapid and robust up until about 60 or so, leveling off for a bit, and then declining rapidly until we die.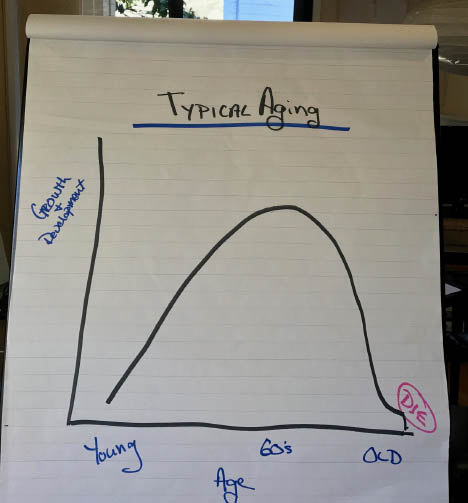 My life had been like the graph so far, reflecting continual growth and development. I'd had my share of big successes and big failures, and there were times when life seemed to stall and become predictable, but I always seemed to find something that allowed me to break the grip of inertia and get back on the upward growth and development path. Now, at age 67-and-a-half, was it time again to shake up life? Or was I out of juice? Had I actually peaked out, with my life's expansion now heading downward until my inexorable death, just like that graph predicted?
Then it struck me. Birthdays are always about celebrating the past. You look backward at what you've done, where you've gone, who you've been. Each birthday you have another year to include. What if? I thought. What if I flipped it around? Rather than looking backward, what if I looked forward? Instead of counting up, I counted down? And celebrated what's in front of me rather than what's behind me?
I recalled a second, comparative graph that Brian had presented back then. On this atypical chart, rather than growth and development peaking in the 60s, it keeps going up, peaking only when you die and not a moment earlier. Brian had posited: "What would be possible if, instead, we lived our lives like this?"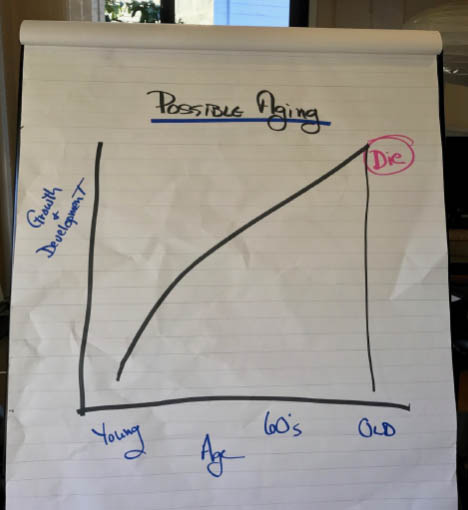 Right then I asked myself: How long am I going to live? Ninety-two seemed like a good age to wrap things up. So, I did the math. On my next birthday, I would have 24 years to go. This flipped-around thinking led me to the really important questions, not about the life I had lived, but about living life. What am I going to accomplish in the precious time I have left? Who am I going to be? How am I going to take advantage of what life has given me so far to make the maximum difference going forward?
If I thought about life like a golf game, it was as if I had just finished the 13th hole, with five holes to play. What were the holes I had already played good for, really? Great stories, for sure. But stories best told later on, over a beer. On the 14th tee box, the only things that really mattered were: How am I going to play the next 5 holes? Will I play them with the exuberance, commitment, joy, confidence and anticipation that comes with playing that very first hole of the morning with dew on the grass and the sun rising over the trees, walking down the fairway with a good buddy?
If I wanted my life to go like graph two, then no more birthdays celebrating the past. I would celebrate the future. I admit it was a bit scary declaring only "24 years to go." But that prospect was exhilarating at the same time. There is something wonderfully refreshing about golf - there is a point where it is decided, game over, that's it. There's a wonderful freedom in that certainty. Saying I had 24 years to go gave me that same sense of palm-sweaty freedom, clear when my round of life would be over.
So, here I am, sitting in my office about to celebrate 20 years to go. In the four years since I inverted my view of aging in Yosemite, I reformulated my consulting practice inside a vision of business fulfilling on its awesome potential to make a difference in society.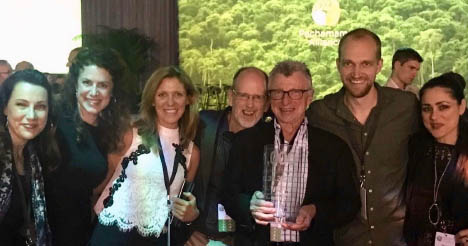 My time and energy is no longer spent on a few lucrative engagements with large corporations. Rather, I have taken on having 1,000 Bay Area Leaders embody the principles of transformational leadership in their organizations, with a special focus on millennial and women leaders.
My new focus on life took me on life-altering trips to Dubai, Lebanon, Armenia, Romania and China, pushing my "countries visited" number over 50. And when, in January of this year, I was diagnosed with an aggressive, high-risk prostate cancer, I kept looking forward. I was back working 60-hour weeks shortly after my surgery, and had invited my surgeons to do my upcoming leadership program. Living life was too imperative to let cancer slow me down.
In a few moments, I will rinse out my coffee mug, go down the three flights of steps from my office to Pierce Street, and walk a few blocks to Via Veneto where I'll meet Lily for dinner and celebrate my 20 Years to Go. We won't be talking about winding it down. We will be engaged in vibrant conversation about these next two decades. What will they look like and what else can we create and contribute given who we have become. Tonight, Lily and I will be talking about winding it up, so we can fulfill our ever-expanding potential to make a difference in our cherished time left.
It occurred to me as I was writing this blog, what if all of us baby boomers took on making the noteworthy contributions we are now uniquely qualified to make? What if we took on being partners with the upcoming generations, where they learn from us, and we learn from them, in service of taking what's possible for us as a human race to a wholly new level?
I invite you to join me in being an extraordinary elder. Becoming a member of the Years to Go club is really quite simple...
How many Years to Go? Choose your number.
What do you plan to accomplish with those precious, wonderful, years? What noteworthy contributions will you make? Come up with things that would have you jump out of bed in the morning. Share them widely with all who will listen.
Celebrate. On your birth date, celebrate the difference you plan to make in your years to go.
I pass forward to you a birthday wish I recently received from a good friend: Have a healthy, happy, fulfilling year of doing your greatest work in life so far!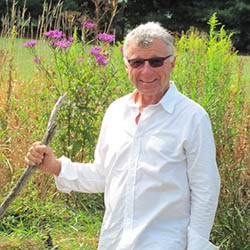 Gordon Starr is the founder and CEO of StarrCo (www.starrco.org). As a coach and consultant, Gordon supports visionary leaders in transforming their organizations and in producing breakthroughs in individual, team and organizational performance.