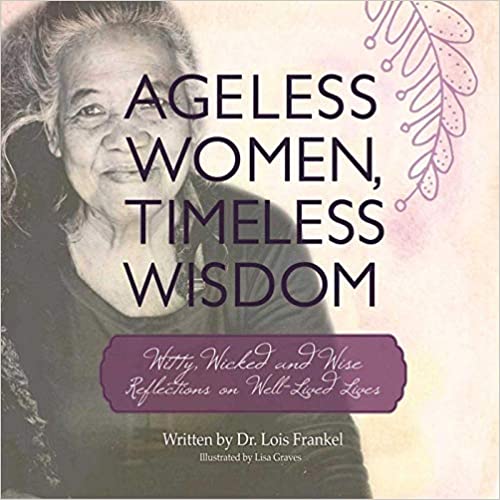 Review by: Leslie Nordby
Ageless Women, Timeless Wisdom; Witty, Wicked, and Wise Reflections on Well-Lived Lives by Dr. Lois Frankel.
Dr. Frankel is a psychotherapist, executive coach and now a documenter of women's unique lives. The women included were septuagenarian to nonagenarian, with a few centenarians; some are from an earlier time and are deceased; others very much alive. The book opens with the Hasidic Proverb, "For the unlearned, old age is winter. For the learned, it is the season of the harvest."
This is a treasure trove of wisdom from women who revel in their season of harvest. Full of life stories, memorable quotes, gentle advice, insights and inspiration, the book's text is complemented throughout by the artwork of Lisa Graves- photos of contributors, photos of nature, and charming drawings.
Perhaps the best way to introduce this book is to share some of what the women interviewed said:
"Do a good deed and throw it in the flowing river, never expecting anything in return" – ZN, Republic of Georgia
"If life gives you lemons…look for the vodka"- JM, California
"Change is the one constant. Don't waste your time looking for stability. Stay open to whatever happens" – EM, Pennsylvania
"Do not regret growing older. It is a privilege denied to many." – EL, Scotland
"Chi ha tempo non aspetti tempo… simple Italian phrase that means 'lost time is never found again; do not postpone what you can do now'." – ND, France
A beautiful homage to the wisdom and ongoing relevance and vitality of elders.
Learn more about Ageless Women, Timeless Wisdom or order it at our Bookshop HERE.